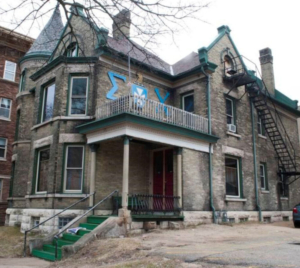 Brothers, 
The Iota Pi chapter has exciting news, and I wanted to take a moment to share it with you. Despite facing difficulties due to factors out of our control, such as Covid-19, etc., the Iota Pi chapter is thriving. This past semester we had 92 active members, making Sigma Chi the largest fraternity on campus at Marquette. 
We have continued our dedication to helping the community in and around the Milwaukee area. With the installment of a community service chairman onto our executive board, we hope to make a real difference on and off campus. The chapter participated in a toy and clothing drive for The Milwaukee Rescue Mission and was involved in Marquette's Make A Difference Day with more than 75 percent attendance from brothers. In addition, we continued the tradition of Derby Days with active participation from every sorority on campus, and all proceeds went to the Huntsman Cancer foundation. Last year we raised $5,000, and our goal for the upcoming year is $10,000. 
As you can see, the Iota Pi chapter has grown substantially over the years, and we continue to grow and make changes to try to better ourselves. Our focus for this upcoming year is giving back to the community and helping others. Now, however, we find ourselves needing to seek assistance for our chapter house. 
We were fortunate enough to get support from the national Constantine Housing Initiative (CHI), a new program run by Sigma Chi. It acquired and is working to preserve its second Sigma Chi property, which is at Marquette. As part of the project, we are launching a campaign to raise our share of the money required to complete the over $1 million renovation. Our goal is to raise $600,000, and we need all of our brothers' help to reach it. Please keep an eye out for more information on the project and how to donate in the coming weeks. 
CHI already has undertaken plans to rehabilitate the building, including the immediate implementation of several key life safety upgrades. Further renovations will continue through the summer, with an increase in capacity planned for Fall 2022. This rehabilitation is necessary to create an exciting new place for brothers to hang out and will increase the already prominent brotherhood of our chapter. With the new renovations to the house, we will be able to hold chapter meetings there. In the past, we have not been able to do this because of the sheer size of the Iota Pi Chapter. 
The brothers of the Iota Pi Chapter are very excited for what the future holds, and I am very excited to begin my time as consul. Thank you in advance for your generous support as we strive to create a place where our current and future brothers can flourish! 

Brought to you by Ryan French, consul 
https://makeyourmarque.org/wp-content/uploads/2022/07/house-photo.jpg
894
1000
Heath Hadley
https://makeyourmarque.org/wp-content/uploads/2022/06/make-your-mark-logo-F.png
Heath Hadley
2022-07-25 13:15:46
2022-07-25 13:32:39
Update from the Chapter